Price of Jacuzzi in Nigeria 2023
Today, I'll enlighten as many of you as possible who don't know what a Jacuzzi is, as well as the different types and prices of Jacuzzi in Nigeria.
When the word Jacuzzi is mentioned in Nigeria, many people think of fancy bathrooms and fancy bathtubs; however, many people do not seem to know or understand what it is. When they see a luxurious bathroom or a custom-made bath tube, they refer to it as a Jacuzzi in Nigeria.
Let's get started.
In this article, I will educate and guide you on the following topics: "What is a Jacuzzi?," "Types of Jacuzzis in Nigeria," "Price of Jacuzzis in Nigeria," "How to know the Jacuzzi that suits you," "Where to Buy Jacuzzi," "How to buy Jacuzzi Online in Nigeria," and "How to Install a Jacuzzi,".
What is a Jacuzzi?
Jacuzzi is a global manufacturer and distributor of high-quality baths, hot tubs, pools, and saunas. They design and sell hot tubs, bathtubs, showers, toilets, sinks, and accessories. I understand that this is not what you expected, and you may be considering another explanation of Jacuzzi as exquisite bathtubs and others.
Jacuzzis are high-end household items that are only found in a handful few homes with modern and capable settings.

Jacuzzi is simply a brand name for hot tubs, pools, opulent bathrooms, showers, saunas, and spas. There are other companies that make hot tubs. However, Jacuzzi has made a name for itself in the market and is one of the best-selling products in the industry.
Jacuzzi provides bathtubs, hot tubs, spas, and pools both indoors and outdoors.
Hot tubs and Jacuzzis are the same thing; they're usually filled with water and treated like a pool, and they're always "hot!" Jacuzzi is a brand of hot tubs, and hot tubs in commercial settings such as hotels and suites are frequently referred to as Jacuzzis.
A hot tub is a large tub filled with water that is used for hydrotherapy, relaxation, or pleasures. Some have powerful jets for massage.
It is designed to be used by more than one person at a time, with many models holding four or more people. Hot tubs are typically installed outdoors, but they can also be installed indoors.
Another difference between baths and hot tubs is that wet-jetted hot tubs do not use soaps or shampoos (although they can be used in air-jetted hot tubs).
Types of Jacuzzis in Nigeria
As you might expect, there are various types of Jacuzzis in Nigeria and they include:
Whirlpool
Single Bath tub
Double Bath tub
Whirlpool Massage Bath
Steam Shower Bath
Price of Jacuzzis in Nigeria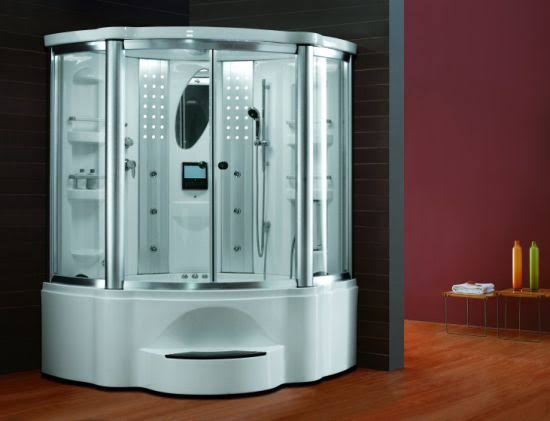 Jacuzzi prices vary depending on size, features, functions, and quality. The prices of Jacuzzis in Nigeria are listed below:
Jacuzzi Whirlpool Massage Shower – N750,000 – N1,200,000.
Single Jacuzzi Bath tub – N250,000 – N700,000.
Double Jacuzzi Bath tub – N350,000 – N800,000.
Jacuzzi Spa – N1,500,000 – N2,000,000.
Double Bath with massage – N450,000 – N600,000
Executive Jacuzzi – N650,000 – N800,000
Jacuzzi bath with TV – N1,200,000 – 1,800,000
Jacuzzi with radio – N300,000 – N450,000
Plain Jacuzzi Bath – N280,000 – N320,000
Executive Shower Jacuzzi – N2,500,000 – N3,000,000
Double Steam Shower Jacuzzi – N1,500,000 – N2,000,000
Double handle Jacuzzi – N400,000 – N600,000
Ceramic Jacuzzi – N350,000 – N400,000
Customized Single Jacuzzi Bath with premium features – N850,000 – N1,000,000
Related
How to know the Jacuzzi that suits you
Before buying a Jacuzzi, it is essential to know which Jacuzzi will best suit your property or space. With that in mind, there are several factors to consider before purchasing a Jacuzzi. See them below:

Purpose: This is extremely important because a Jacuzzi can be used for both commercial and residential purposes. So, when purchasing a Jacuzzi for residential use, you must purchase an indoor Jacuzzi, whereas, for commercial use, you must purchase both indoor and outdoor Jacuzzis depending on your commercial features, such as hotels or resorts.

Space: It is important to take into account how much space a Jacuzzi will take up.

Price: You must be aware of the cost of the Jacuzzi you wish to purchase if it's in line with your budget.
Availability: It is important to know whether the product is in stock or out of stock.
Another thing to keep in mind is which online stores have the best market prices and genuine products.
Where to buy Jacuzzi in Nigeria
Bathroom wares are available for purchase on a variety of websites, including online websites and e-commerce sites such as Jumia and Konga, but a candid recommendation is to request as many pictures of the product as possible.
If you have the time, the best option is to go to a walk-in store and check them out yourself.
How to buy Jacuzzi Online in Nigeria
If you want to buy a Jacuzzi in Nigeria, I recommend Jumia, Konga, and the Nigerian classifieds website jiji. Purchasing from Jumia and Konga is simple, especially if you already have an account with them.
All you have to do is log in to your account, search for the product, read product reviews, place your order, and select a payment method.
Pay on delivery is the best payment method to use. Pay on delivery means that the product is delivered to your door and you have the opportunity to inspect it before making payment.
If you do not like the product you received from Jumia or Konga, you have an option to return the order and receive a refund.
While on Jiji, search for listings of jacuzzis, contact the seller and arrange for the product to be delivered to you before making a payment.
How to install a Jacuzzi in Nigeria
To install a Jacuzzi in Nigeria, you will need to hire professionals and experts in the field. You can find an expert in your area by searching Google.
Conclusion
Well, I've come to the end of this topic, and I hope you now understand what jacuzzis are, what they are made of, how much they cost, and how to choose the best jacuzzi for your needs. If you have any questions about this topic, please leave them in the comments section.
I'd be delighted to respond to your questions. Thank you for taking the time to read this post; please share it with your friends and family.
Compare Building Materials Prices